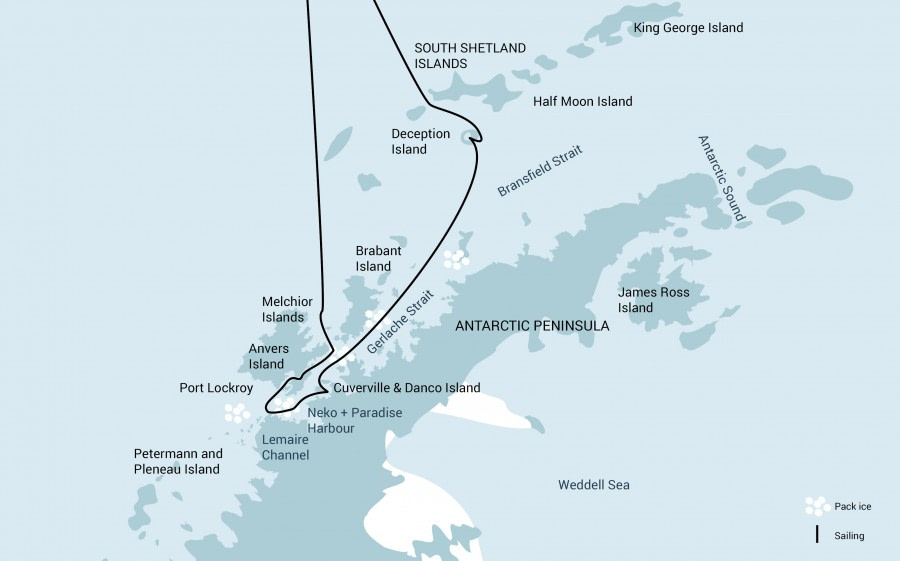 Day 1: Feb 22 ~ Tierra del Fuego National Park and board ship
You will have the option of joining an included group field trip or spend the day exploring Ushuaia on your own. Our leaders will collect anything you don't need for the day at the hotel and send it ahead to the ship for you, so you are not burdened with your luggage. Ushuaia is often graced with all four seasons in one day, so be prepared for any conditions and hope for beautiful blue skies! Lunch is included for those on the group field trip only.
By early afternoon, you'll transfer to board the Plancius. The ship crew will direct you to your cabin where your luggage awaits, and you can prepare for embarkation in the early evening. As Ushuaia fades in the distance, you will find yourself cruising by the spectacular scenery of the Beagle Channel where the Hshgans (Tierra del Fuegans) once lived. Look for terns, kelp and dolphin gulls, and imperial cormorants, plus swimming Magellanic penguins. The shallow waters at the mouth of the Drake Passage are rich with sea life, and birds are usually present in huge numbers, especially sooty shearwaters and black-browed albatross. Schools of dolphins may also entertain you with bow riding and staff will always be on lookout from the bridge, in search of whales. After sunset, phytoplankton phosphorescing on the water and a brilliant, starry sky may be the rewards as you sail south into the open waters to Antarctica.
Day 2 - 3: Feb 23–24 ~ Cross the Drake Passage
Spend two days at sea familiarizing yourself with all aspects of ship life and preparing yourself for what to expect on land while. Listen for interruptions from the bridge announcing wildlife sightings. If you stand watch, you may sight several species of albatross and petrel following the ship; this is a particularly good area for southern and northern royal albatross and blue petrel. Keep an eye out for sperm whale and other species of marine mammals.
Named for the 16th Century English seaman Sir Francis Drake, the Drake Passage separates the southernmost tip of South America from Antarctica and is about 600mi across. You will cross the Polar Front approximately halfway across Drake Passage, where surface water temperatures drop to around 34°F (1°C). The Antarctic Convergence, better known as the Antarctic Polar Frontal Zone (or Polar Front), is a boundary encircling Antarctica where cold, northward-flowing Antarctic waters meet the warmer waters of the sub-Antarctic. The mixing and upwelling generated where these waters meet creates a zone very high in marine productivity, especially for Antarctic Krill. The location of the front varies seasonally; in traveling south, it is made evident by the sudden drop in surface water temperature. The Arctic has no equivalent, due to the amount of land surrounding the northern polar region. This boundary not only separates two hydrological regions, but also separates areas of different climates and distinctive marine life associations. If conditions allow you to make good time across the Drake, you will celebrate our arrival to the Antarctic with an evening landing in the South Shetland Islands on our last evening.
Day 4 - 12: Feb 25–Mar 5 ~ Nine full landing days along the Antarctic Peninsula and South Shetland Islands
February and early March are the best times to delight in the most incredible densities of whale aggregations gorging on swarms of krill, take full advantage of warm, golden light for landscape photography, and watch penguin chicks chase parents begging for food and learning how to swim. Photograph and observe gigantic icebergs with many hues of blue carved into mesmerizing shapes by weather and water. The solitude amid these stunning landscapes will leave you coming back for more.
The South Shetland Islands
These are a string of volcanic islands, some still active, that run parallel to the Antarctic Peninsula across the Bransfield Strait. Fondly known as the "Banana Belt of Antarctica," these islands boast the richest concentrations of terrestrial and marine wildlife in the Antarctic because of their proximity to the rich upwelling waters from the great Circumpolar Current. Even with our luxuriously in-depth itinerary, we will have to choose between many very compelling sites. Weather in the Shetlands can be quite variable but good sea conditions may give us the chance to find great whales in the vicinity. Blue, fin, southern right, and humpback whales all frequent these waters, with populations appearing to be in the midst of dramatic recoveries from desperate lows at the hands of 20th century industrial whaling.
Deception Island can be one of the most exciting islands on our voyage. This horseshoe-shaped, volcanic island is still active, as its hot thermal pools demonstrate. Deception Island also offers one the most unique experiences of the voyage – soaking alongside the beach in the thermal pools surrounded by clouds of steam. Depending on the tide, the water temperature can be fairly comfortable, although it can get so hot that it's necessary to mix in colder water! Hopefully, you will experience the outer caldera, and then venture inside the caldera via a narrow gap called Neptune's Bellows. Bailey Head is home to about 100,000 chinstrap penguins, but the sea can make landings tricky with steep swells crashing on an exposed beach. Inside Deception's huge caldera, your fascinating landing may include a short hike up the mountainside among the lichen-draped cliffs to the scenic overlook. On the beach at Whaler's Bay, you may find Weddell seals basking.
On a clear day, the chinstrap penguins of Half Moon Island make a delightful foreground to the breathtaking coastline of nearby Livingston Island. At this end of the Earth, the vast scale of nature will open our senses and we ask you to give great respect to the fragile vegetation and the wildlife colonies.
Chinstrap and gentoo penguins breed on Aitcho Island, an island covered in mossy green carpets, a surprisingly bright contrast to Antarctica's intensely achromatic landscapes. Conditions permitting, walk across the island past the southern elephant seal wallows, offering a terrific chance to see (and smell!) the world's largest species of seal, also perhaps hauled out Weddell seals and southern fur seals.
From the South Shetlands, we sail southwest across the Bransfield Strait into the fabled Gerlache Strait. Here you can expect whale sightings to ring out from the bridge as the Antarctic Peninsula landscape rises up into a glacier-draped view of mountainous proportion. You'll sail the waters around Anvers Island, Dallmann Bay to the north, and the Gerlache to the east. Hope for magnificent sunsets, sculpted blue icebergs, and close penguin and whale encounters, each with the potential for an experience that you will never forget.
Over the last few decades, the Southern Ocean has experienced a significant warming trend, showing clear evidence of climate change. The Antarctic Peninsula has been feeling climate change the most with a massive 9°F (5°C) warming in average winter temperatures over the last 50 years. Although this has dramatically changed and reduced ice distributions, you will still be among a world of spectacular icebergs!
Western Antarctic Peninsula ~ The Danco Coast, Neumeyer Channel, and Lemaire Channel
Weather and ice distributions will determine whether we travel south down the west coast or sail east through the Antarctic Sound into the Weddell Sea; happily, you have ample time for a thorough exploration of the Antarctic Peninsula. When heading south, travel along the picturesque Danco Coast on the west coast of Graham Land. This area has awe-inspiring scenery with coastlines deeply indented with bays and scattered with islands. Impressive mountains rise sharply from the coast to the central Graham Land Plateau and glaciers descend to narrow piedmont ice shelves. Extensive Zodiac cruising and landings during the best light will allow you to soak in the serenity of this majestic place.
As you travel along the coast, you'll wander into Wilhemina Bay, Neko Harbour, and Paradise Bay, among the most beautiful areas in Antarctica. These waters rank high on our list of favorite places for Zodiac cruising. Enjoy views of sculpted icebergs and surfacing whales as we cruise the inner bays near spectacular glaciers and ethereal mountains. You can expect wonderful whale behavior in these plentiful summer feeding grounds. The krill swarms are enormous, sometimes even visible on the ship's depth sounder. Gentoo and chinstrap penguin colonies reside here, sometimes side-by-side, along with their attendant scavengers: snowy sheathbills, brown skuas, south polar skuas, and kelp gulls. Our potential landing in Neko Harbour on the Antarctic continent will treat you with a walk to an incredible view.
Every day will bring new opportunities, with time among whales, time ashore, or a combination of activities. The main whale species on the Peninsula are humpbacks and minkes, though chance may bring three ecotypes of killer whales, rare Arnoux's beaked whales, or an unexpected find of a great whale recolonizing habitat they formerly occupied before a century of industrial whaling. Actively contribute to Antarctic research by collecting humpback whale fluke images, and (internet connection permitting) get immediate feedback to learn the sighting histories of some of the whales we see among over 5,000 known individuals gathered in Happywhale.com.
Enjoy the scenery from the ship as it navigates through stunning Neumeyer and Lemaire Channels or around the south end of Anvers Island into Biscoe Bay where you will be completely surrounded by ice-draped peaks soaring dramatically out of the water. Crabeater, Weddell, and leopard seals are often hauled out on the ice floes and whales may even surface between the floes, so keep your cameras ready! Tall, hanging ice cliffs, the fronts of highly fractured tidewater glaciers, decorate most of the shoreline for unforgettable scenery. At the southern part of the Lemaire Channel you'll arrive at Petermann Island. Located at 65°S, Petermann is outstanding for seeing gentoo and Adélie penguins making feeding trips in large groups along a snow-filled penguin highway to and from their nests. The clear water is beautiful for observing and photographing penguin activities. Petermann has seen a reversal in abundance between the two species, with a small fraction of the numbers of Adélie penguins found here twenty years ago, but dramatically more gentoos as climate change pushes more open water further south each year.
Additional landing sites along the western Peninsula are expected, but which ones will depend on conditions (as is the case with any landing). Port Lockroy, located at the end of the very narrow and beautiful Peltier Channel close to Neumeyer Channel, has a British Antarctica Survey maritime museum and a sprawling gentoo penguin colony. Tiny Cuverville Island is also a treat with gentoo penguins walking amid the snow and entering and exiting the beach.
As you return, you will likely pass through the South Shetland Islands again, possibly for a landing at Hannah Point on Livingston Island. Look for macaroni penguins among the chinstrap and gentoo colonies and keep an eye out for the usual rookery scavengers (skuas, gulls, giant-petrels, and sheathbills). Here you will find excellent examples of Antarctica's only two flowering plants, the Antarctic hair grass and Antarctic pearlwort, the continent's complete flora at one site!
Day 13 - 14: Mar 6–7 ~ Return through the Drake Passage and Beagle Channel
Even with our in-depth voyage along the Antarctic Peninsula, it will no doubt still feel too soon to leave the continent behind. As you sail north on the homeward leg, you will share delightful memories of your experiences, enjoy a group slide show of images captured, and talk of plans for future travels. The wildlife, however, is not all behind you. Almost 500mi north of the South Shetlands, near Cape Horn, the waters here at the tip of the South American continental shelf are as rich as seawaters can be and seabirds are sometimes present in large flocks. Once in the lee of Cape Horn, any ocean swell will disappear, and you will enter the Beagle Channel for a final scenic cruise to Ushuaia.
Day 15: Mar 8 ~ Disembark and fly homeward
We will dock in Ushuaia, Argentina, by early morning. After breakfast, bid farewell to your shipmates, leaders, and the ship crew and disembark early for morning flights. If you wish to extend your stay in Ushuaia, we are happy to assist you with the arrangements.
OTHER DETAILS: -
Climate
Antarctica has a cold, dry, sometimes windy climate even in the summer. Normal late summer temperatures are -5 to 5°C (25 to 40°F) on the Peninsula, known as the 'Banana Belt'. Penetrating cold is not usually a problem. Wind chill and wetness while riding in Zodiacs are the primary conditions to insulate against. It is also possible to get wet weather, but often it is with wind, so an umbrella is not usually practical. Waterproof gloves, warm cap, layers of light, loose, warm clothing, and water repellent outer garments are necessary. Sunscreen is critical. The temperature on the ship is comfortably warm, but you may still wish to dress in layers and keep a warm layer handy in case there is exciting wildlife (such as an Emperor Penguin!) to watch from the ship's deck.
Fitness Level
Although participating in this voyage does not require a high level of physical fitness, you should be able to walk up and down stairs on the ship and on the gangway that hangs on the side of the ship, get into and out of the Zodiac with assistance of expedition staff and crew, and walk on sometimes unstable, rocky, and slippery terrain on shore. Once on shore, you can choose to walk for short or long distances (within the specified guidelines). Landing details will be given in advance of landing. Please contact us if you have any health concerns that may make this trip challenging.
Seasickness
Don't let a fear of seasickness scare you away! Over the years many who have dreamed of experiencing Antarctica with us have stayed home for fear of seasickness, but of all those who have joined, we know of only one passenger who said that seasickness really affected the enjoyment of the trip. Still, that same passenger talked about repeating the trip, because the rest of the experiences more than made up for it. For all but the most sensitive, motion sickness is only a problem during open ocean passages. Days and nights when we are landing or cruising between landings are quite calm because we are very close to land. The Southern Ocean has a reputation for the worst seas in the world, not because they are always rough (on the average day, the seas are actually quite calm!) but because their extremes are large. If we are hit by a storm during a crossing, the experience will be memorable. For this reason, unless you know you are immovable by the heavy seas, bring a good supply of medication. Many of our frequent travelers are quite susceptible to seasickness, yet they come back year after year because they love Antarctica! Read our suggestions for coping with seasickness at www.cheesemans.com/seasickness and contact us if you have any concerns.
Flights
Airfare is not included in trip costs. Detailed logistical information and the contact information for our recommended flight-ticketing agent are included in the Trip Materials we will send you. Please let us know if you are arriving earlier or staying later as we are happy to assist you with any extra overnights that you might want to arrange.
Flights you (or a travel agent) book: Arrive in Ushuaia, Argentina (USH) by 4:00pm on February 21. Depart from Ushuaia, Argentina (USH) any time after 12:00pm on March 8. Most flights homeward route through Buenos Aires, Argentina. Allow at least six hours to transfer between the domestic and international airports in Buenos Aires.
Terms and Conditions
Read our current Terms and Conditions at https://cheesemans.com/terms-and-conditions.
Conservation
Cheesemans' Ecology Safaris is passionate about conserving the precious regions that we travel to and supports many conservation efforts. By visiting these areas, we contribute to sustainable conservation of these valuable wildlife habitats. We urge you to support conservation organizations that protect and restore natural habitats and write letters to tourism and government agencies to promote work in preserving wildlife.
We aim to make all our trips carbon neutral by splitting the cost of carbon offsetting with our participants. For your convenience, the optional donation amount for your half of the carbon offset will be indicated on your invoice. We source high quality offsets through CarbonTree Conservation Fund, a non-profit we helped found, supporting pioneering forest conservation in the Rio Bravo Reserve in Belize, a Nature Conservancy project (www.nature.org/en-us/about-us/where-we-work/latin-america/belize/rio-bravo-conservation-area/).
m/v Plancius
Ons ijsversterkte schip m/v Plancius is een uitstekend schip voor expeditie reizen in het noordpoolgebied en Antarctica. Naar schip »
Hutten & prijzen
This cruise is chartered from Oceanwide Expeditions further inquries can be made at

4-persoons hut met patrijspoort
1 patrijspoort
2 stapelbedden
Privé douche & toilet
Bureau & stoel
Haardroger
Flatscreen TV
Telefoon & WiFi (extra)
Kluisje
Voldoende bergruimte
Deze hut is geschikt voor families met kinderen, of passagiers die geen aparte hut of meer luxueuze hutten vereisen.
Price for the complete cabin, fully occupied.
Share your cabin with others for the best price
3-persoons hut met patrijspoort
1 patrijspoort
1 stapelbed & 2 aparte bedden
Privé douche & toilet
Bureau & stoel
Haardroger
Flatscreen TV
Telefoon & WiFi (extra)
Kluisje
Voldoende bergruimte
Deze hut is geschikt voor families met kinderen, of passagiers die geen aparte hut of meer luxueuze hutten vereisen.
Price for the complete cabin, fully occupied.
Share your cabin with others for the best price
2-persoons hut met patrijspoort
1 patrijspoort
2 bedden
Privé douche & toilet
Bureau & stoel
Haardroger
Flatscreen TV
Telefoon & WiFi (extra)
Kluisje
Voldoende bergruimte
Price for the complete cabin, fully occupied.
Price for the complete cabin occupied by 1 person (1.7x the shared rate).
Share your cabin with others for the best price
1 raam
2 bedden
Privé douche & toilet
Bureau & stoel
Haardroger
Flatscreen TV
Telefoon & WiFi (extra)
Kluisje
Voldoende bergruimte
Price for the complete cabin, fully occupied.
Price for the complete cabin occupied by 1 person (1.7x the shared rate).
Share your cabin with others for the best price
2 ramen
2 bedden
Privé douche & toilet
Bureau & stoel
Haardroger
Flatscreen TV
Telefoon & WiFi (extra)
Kluisje
Voldoende bergruimte
Deze cabines zijn hoek hutten en zijn iets ruimer dan de normale Twin Window hutten.
Price for the complete cabin, fully occupied.
Price for the complete cabin occupied by 1 person (1.7x the shared rate).
Share your cabin with others for the best price
2 ramen
1 2-persoons bed
1 bank bed
Privé douche & toilet
Bureau & stoel
Haardroger
Flatscreen TV
Koelkast
Koffie en thee zetter
Telefoon & WiFi (extra)
Kluisje
Voldoende bergruimte
Price for the complete cabin, fully occupied.
Price for the complete cabin occupied by 1 person (1.7x the shared rate).